The Digital Employee: Putting People First Through Digital Transformation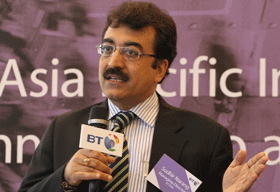 BT in its white paper, 'The digital employee - Putting people first through digital transformation,' offers practical guidance on how to create a great digital employee experience. The paper also underscores the need for companies to adopt flexibility in working and looks at certain factors that will determine the digital experience. Simplicity and convenience must be at the core your plan. Whatever people are using, it must be fast to connect and consistent in performance. The organisation needs its employees to have the same service everywhere, and always with the right levels of security. Similarly, seamless integration is key in determining the experience. Organisations want employees to switch without thinking between proprietary corporate and generic applications, or between services in the private cloud and public cloud. All technology and services must work seamlessly together.
Performance and reliability is another factor. Organisations need end-to-end monitoring, across all services, devices and components, to provide the IT team with data they can use to identify potential issues and proactively fix them before they impact the user experience.
The best way to encourage users to adopt and embrace a digital workstyle is with a plan that addresses human behavior as well as technology. Building a better digital employee experience is a primary objective for many organisations. However, they face many barriers like lack of real insight into what users want and need. The white paper offers a three-stage approach to achieve the objective. The first stage is to builda solid business case for more agile working which will enable you to identify your critical employee 'personas,' and the collaboration or communications services that match those needs.
The best way to encourage users to adopt and embrace a digital workstyle is with a plan that addresses human behavior as well as technology
Developing your initial transformation plan and progress your digital employee programme is another stage. You can then run a pilot project and decide on how you are going to implement across the organisation. Finally, roll out the new digital employee experience, supported by a comprehensive adoption plan that educates and encourages users in the new ways of working. Internal communications and cultural change is key to successful implementation. According to the paper, employees enjoy the freedom and flexibility of working anywhere while employers like the positive impact flexible working can have on costs, productivity and staff retention. What's more, there's no contradiction in aiming for lower spending, higher productivity and improved motivation in the workplace. At the heart of this new way of working are collaboration and mobile technologies: organisations can choose from an expanding range of audio and video communications, social media and office tools; all delivered as cloud services.
The faster users take up these new technologies, the sooner the organisation will benefit. BT research further reveals that CEOs are clear about the advantages of a more digital experience for employees. It will contribute to cost reduction, staff retention and productivity, closely followed by collaboration and innovation.
Employees too welcomed the digital transformation, the research reveals. 67 percent think being able to work flexibly is more important than a company car, while 56percent want the ability to work and update databases remotely. 73 percent prefer that their IT department invests in mobile technology. The BT paper establishes the fact that there is a powerful business case for the 'digital employee'. No business can achieve its digital transformation ambitions without enabling its employees to work more collaboratively. That means connecting more closely with colleagues, customers and partners and working more freely; untethered from desks and offices. Building the infrastructure for a great digital employee experience requires organisations to put people before technology. Putting people first means organisations also need a plan that includes internal communications, training and cultural changes to encourage and inspire widespread adoption of new collaboration and communications services. Empowering people to work anywhere can improve productivity, increase efficiency, reduce CO2 emissions, give employees a better work-life balance and ensure business resilience in times of disruption. They will be productive from anywhere and add incredible velocity to business. The three-way approach BT formulated will go a long way in building a great digital experience for employees and to move ahead on your digital pathway.