Exclusion of Arts Subjects from English Baccalaureate: A Step Backward?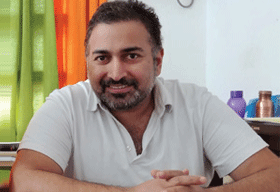 From the moment EBacc came to the fore, the entries for all Arts subjects at schools have reduced by 13 percent. In a survey conducted on 1,800 of its members, the NUT (National Union of Teachers) revealed that nearly 84 percent of the respondents reported a drop in vocational subjects being offered at schools. Kevin Courtney, general secretary of the NUT, states, "The demands of Ebacc are driving creative and vocational subjects out of the curriculum and are harming students' motivation, engagement, and appetite for learning". While Nick Gibb, the Schools Minister, describes Arts as 'hugely important,' he maintains: "I very firmly believe that for a broad education pupils should be taking, and taking seriously, the arts, including music."However, this is clearly not the case. He defends the exclusion of Arts from EBacc by stating: "It is not included in the EBacc because we wanted to keep the EBacc sufficiently small to enable pupils to specialize in different things".
This decision has not gone down very well with Britain's artist community, and some of its most eminent members have come together to show what a huge mistake it will be if Arts were not included within the education framework. In an open letter, renowned British artists lament the squeezing out of Arts and other creative subjects by saying, "Young people are being deprived of opportunities for personal development in the fields of self-expression, sociability, imagination, and creativity." They further go on to say, "We call on the government to reverse its decision to blindly press ahead with the Ebacc, regardless of the consultation responses and in the face of overwhelming evidence against this policy. If we care about social mobility, well being, and economic growth – and if we want our creative industries to continue to flourish – we need to rebalance our education system so that the arts are valued just as much as other subjects."
Why Is EBacc a Huge Mistake?
By altogether eliminating creative disciplines from the bounds of "core" education, EBacc is not only stifling imagination and creativity, but it is also closing all the pathways towards self-discovery. Today, because of EBacc, students are increasingly being driven to focus on traditional academic disciplines such as the Sciences and History or Geography. In fact, by 2025, the government aspires to see 90percent of GCSE students opting for the EBacc combo. If the government stands its grounds with this plan, a majority of students belonging from the country's backward and deprived areas will most likely miss out on opportunities to take up Arts.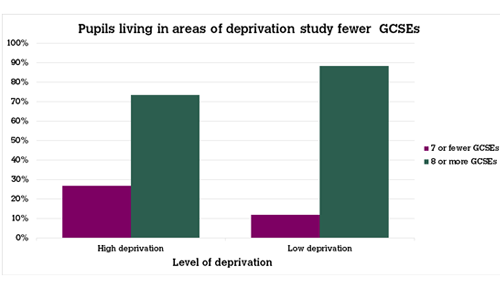 In 2016, nearly 26.7 percent children living in highly income deprived regions of the country took seven or less than seven GCSEs compared to the 12percent of students coming from the affluent surroundings. Phyllida Barlow, a renowned British artist who has been a faculty member at some of Britain's most prestigious Art schools (1963-2009), states that over the last 15-20 years, she has observed the gradual reduction in the importance of Arts at all levels of education.This only shows that we're fueling the growth towards an increasingly materialistic and capitalistic world, where there is zero scope for free imagination and creativity.
" By integrating Arts into the education system, we can encourage the students to pursue not just the traditional subjects but also to interact with Arts disciplines to learn to appreciate creative performing arts."
Sir Anish Kapoor, the acclaimed British sculptor, says in utter disdain,"The fact that we enslave our young people as fodder, and educate them as fodder for this monument to capitalism is outrageous. In older times, and not so long ago, an education meant an education in the arts and music and the classics. Have we so lost our sense of what it means to be civilized that all we care about are subjects directed to the economy? What's wrong with us?" If this continues, there'll soon be no artists or exceptional talents left among us in the near future. However, as of 2017, the percentage of students entering EBacc (38.1percent) has decreased by 1.5percent since 2016 (39.6 percent).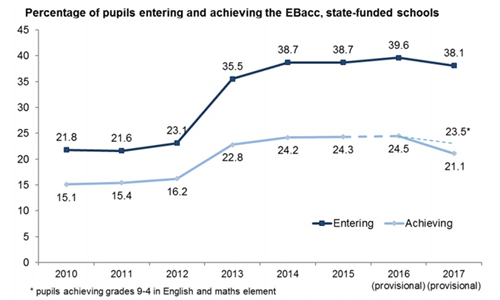 Why Should India Not Follow Suit?
India is a country with deeply ingrained respect and value for cultural and creative arts. Be it our exquisite dance forms or the variety of intricate art and sculpture forms across the country, Arts is an integral part of India. And this is reason enough for India not to tread the path that Britain has set on. On the contrary, the Indian education system should lay greater stress on the inclusion of Fine Arts into its canvas. According to the John F. Kennedy Center for the Performing Arts, Arts Integration essentially refers to, 'An approach to teaching in which students construct and demonstrate understanding through an art form. Students engage in a creative process which connects an art form and another subject and meets evolving objectives'.
By integrating Arts into the education system, we can encourage the students to pursue not just the traditional subjects but also to interact with Arts disciplines to learn to appreciate creative performing arts. This approach to education will ensure that while students gather knowledge on important subjects, they never lose touch with their creative selves. The key is to integrate, as Pulitzer Prize-winner Thomas L. Friedman, famously said in his book 'The World is Flat', "The secret sauce (to support the current creative economy) comes from our ability to integrate art, music, and literature with the hard sciences. Integration is the new specialty".
To ensure the all-round development of a child, one cannot take strict and constrained methods of teaching. Education and teaching are both creative processes. Arts in its myriad forms teach children to think out-of-the-box; to let their imagination loose and 'create' marvelous things. It allows pupils to enhance their concentration, observation, and cognitive skills. Arts encourages students to nurture their unique strengths so that they can to stand apart from the crowd, something that we direly need in the world that is becoming heavily inclined in producing a fleet of 'well-trained and educated robots'. In fact arts and culture, is one of the most important subjects for any student preparing for the Indian Civil Services Exam. Thus, the privilege to study arts should be extended to all students in the country.