CRM Trends to Watch for in 2019!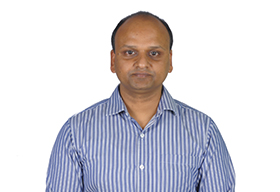 CRM Trends to Watch for in 2019!
By Saurabh Kumar, Associate Manager, Accenture India
Accenture is one of India's leading global
professional services company offering strategy, consulting, digital, technology and operations services for their clients.
As we enter a new year, inadvertently thoughts move towards what new trends we may get to see evolving in the CRM space in the recent future. Trying to read the crystal ball on this front is not something new. However, as someone who has been a CRM practitioner for more or less 15 years, we have been spectators to a huge transformation in this arena. Some of it maybe speculation, some wishful thinking and some could be more of a hope to see the impact of the brewing efforts over a period of time. The fact is we succumb to making this watchlist of the upcoming features in CRM year after year. Some of the features like cloud CRM and mobile CRM are not included in this list as they have now reached a stage where they are taken as a given for any CRM solution. An on-premise solution today is more of an exception, while cloud CRM has become the norm!
Customer Focus
The literal full form of CRM is customer relationship management. To begin with though, the CRM supported our sales teams more than it catered to the needs of a customer. Over the years though it has changed and CRMs have become much more inclusive. In addition to the KRA of monitoring and increasing sales, CIOs have realised that the CRM solutions have the potential to engage and build a long-term relationship with their clients. Hence, the efforts are being made to develop comprehensive and integrated systems for sales, service and field service functions. All these functions working in tandem allow organisations to achieve customer delight.
360-Degree View
In a world where customer is the king and spoilt for choices, data is power. When it comes to understanding the patterns and behaviours of the potential customer a 360-degree view is the need of the hour. While maintaining good data hygiene by all the stakeholders is mandatory, collating data being stored in watertight compartments by different departments is also becoming essential. This may be an arduous task due to various formats and differentiated systems being used across the same organisation, but this is a challenge that needs to be climbed sooner rather than later. Latest innovations in technologies like voice commands, availability of offline modes for hand-held devices, social network data mining will further assist in reaching the desired state. With the rising usage of big data analytics & predictive modelling, the utility of this data is no longer a question mark!
Overall, we can simply say the relevance of CRM in today's connected world is only increasing. Both organisations and customers feel that it is an essential tool for them
Integrations
While some of the vendors are toiling over building integrated applications (e.g., Oracle has combined sales & service in its engagement cloud), in my opinion an open platform which eases integrations with the applications of choice is the road to future. The future CRM systems need to communicate with other systems, which could be native integrations, custom integrations or third-party integrations. Seamless & effortless integration with ease of data movement is the winning recipe for any of the cloud CRMs of future. This allows organisations to remain agile, nimble and ready for any unforeseen future challenges.
Augmented Reality
While Virtual Reality failed to make a big impact in the CRM world, Augmented Reality (AR) is ready to remove that tag. AR may not be as glitzy as its cousin VR, but its use cases are much more practical and user friendly. Its usage in retail sales, enterprise training and other such scenarios lead us to believe that its growth will be exponential as AR is just not cool it is useful too!
Omnichannel & IoT
Omnichannel deserves to be in this watchlist at least this year more as I believe it has still not reached its full potential. It will continue to grow as customers get more & more connected and have access to multiple platforms simultaneously to educate them, as well as to guide them towards their preferred choices. It may eventually become an absorbed feature of all the CRMs in next couple of years though as one cannot imagine a CRM system that is not available in an integrated fashion through all the channels.
IoT or internet of things is also one of the channels through which data is collated and analysed. IoT data allows a service provider to provide superior and optimized service. The behaviour patterns observed and analysed using IoT are correlated with other available data to provide meaningful information to the service provider. The number of IoT-enabled devices surpassed the human population a few years ago and its usage is certainly not set to dwindle yet.
Chatbots
Chatbots have perhaps been the biggest disappointment of this year when the experience of customer service using these have not really delivered big results. However, I continue to believe they are the right tools for future. My confidence gets boosted when I get exposed to all the research happening in Natural Language processing and strides being made in the fields of Machine Learning & Artificial Intelligence. The business case for chatbots in guided selling, customer service, loan processing, recruitment and others are a way too strong to discard this technical innovation. A combination of intelligent chatbots with the right of human intervention to take care of human emotions & empathy are the response to catering to multiple customers at the same time without getting a blow to customer satisfaction.
Overall, we can simply say the relevance of CRM in today's connected world is only increasing. Both organisations and customers feel that it is an essential tool for them. Mushrooming CRM providers either armed with a technological advancement and/or industry-specific solution is the testimony to the golden future of CRM. A CRM solution may change its avatar yet again, and in a manner which none of us can foresee as of now.
However, moving from a traditional CRM system to a modern CRM can be expensive and risky, especially in the dynamic world of CRM where we are not sure which of the innovations might be feasible for a particular organisation. That is the reason why a lot of reputed service providers are offering Fixed Scope Offerings or Speed Solutions to their customers. The customers have a choice to pilot with the core functionalities of the CRM application of their choice. Gradually they can expand and transform post evaluating the ROI of the application basis the pilot. This approach is certainly getting popular as it mitigates the risk, as well as limits the cost involved while making such an important decision for the future of your organisation.