Capturing Value from Next-Generation Infrastructure Management Services
By By Arvind Mehrotra, President & Global Business Head, Infrastructure Management Services, NIIT Techn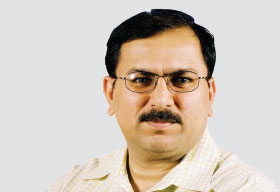 NIIT Technologies (BSE: 532541) is a Noida based IT organization offering services in application development and maintenance.

In the case of infrastructure management, being prophetic about the future is like trying to read a pattern in the constantly shifting waves in the ocean. The changing nature of infrastructure technology - from ensuring applications and infrastructure uptime to being a technology enabler - has initiated the need for new approaches and thought leadership. The industry is moving from IT craftsmanship to an era of IT Industrialization with the adoption of ITIL v3 framework - making organizations more mature. However, with maturity, bureaucracy and rigidity have also seeped in, which has widened the gap between IT goals and business requirements of a stable IT infrastructure.

Today, data, applications and processes reside on different platforms, such as cloud, desktop and mobile. The thrust on aligning IT services with business strategy is imperative and organizations need a rethink on how to leverage existing technology assets and emerging trends to design, provision, and maintain IT infrastructure for both external and internal clients of an enterprise. According to a 2015 State of the Network Study by Network World, IT executives need to focus on cloud computing (31 percent), mobile devices (28 percent) and desktops (24 percent) to deliver measurable business value through IT. IT leaders who can quickly adapt to these platforms will be able to bridge the growing gap between business and IT, and meet ever-evolving customer expectations.

Hence proficient and parsimonious infrastructure management has become the lifeline of any organization. According to the recent estimates by Ovum, the market size of IMS is expected to reach $770 billion this year. In order to cater to such a huge market, IT infrastructure, beyond mere installation, needs to be configured and updated to ensure that the IT environment is secure, productive, and modernized. With this understanding, IT leaders need to align IT goals with enterprise strategy for improved availability, reliability and performance of the IT infrastructure. We visualize the need to rapidly strike the right balance between IT industrialized solutions and business optimized solutions. The next wave as we would like to call it "Outsourcing 3.0" is about IT transactions being carried out in a factory model thereby ensuing business assurance in addition to being a value addition. Organizations now expect IT to be nimble, to be able to react to changing business scenario and sustain the business value.

Trends to Follow for Effective Infrastructure Management
Amidst the cacophony of emerging needs for better management of technology infrastructure, organizations need to evaluate their existing IT infrastructure and focus on the following four trends that stand out as current market inflection points:


Emerging technologies that add impetus to infrastructure efficiency


Resolving the agility vs stability paradox - DevOps


Addressing the current industry needs of integrated service level


Adoption of cloud


Emerging Technologies That Add Impetus to Infrastructure Efficiency

Over time, data centers typically have software siloed inside specialized hardware components that make infrastructure complex and rigid. In order to efficiently manage these data centers, organizations need to automate virtual and physical resource provisioning activities. Three trends are driving the evolution: soft data center, virtualization and high availability configurations. A soft data center, a unified data center platform provides unprecedented automation, and flexibility to effectively match IT resources to their business needs. It provides unmatched business agility, highest service-level agreements (SLAs) for all applications, dramatically simpler operations and lower costs. Virtualization enables high utilization of IT resources with little or no human involvement and high availability configuration ensures continuous application availability - dramatically reducing the time the employees spend on application provisioning and deployment.

Resolving the Agility vs Stability Paradox - DevOps

For long, businesses were dependent on an SDLC waterfall model. While its system methodologies were rigorous, they were slow and linear. There were instances where the requirements changed so dynamically that you often ended up not delivering anything because the problem changed by the time you deployed your solution. The key to resolving this kind of challenge is to adopt a DevOps philosophy that emphasizes speed and efficiency without sacrificing stability.

How CIOS's concerns are addressed via DevOps

CIOs are looking to achieve synergies for their organizations via DevOps which includes identifying configurable items and streamlining business processes. Build, release and test automation further supports operation through various techniques - ARA (Application Release Automation), ADA & APM.


The DevOps approach ensures faster release times, reduces time-tomarket, improves quality for the client, and helps organizations to move from unmanaged configurable items to managed configurable Items.

Addressing the current industry needs of integrated service level

We at NIIT Tech developed an altogether new proposition called Integrated Operations Management (IOM) which integrates application support into the run side of business. This integrated model of application operations and infrastructure operations addresses the current industry needs like integrated service level, need of ITIL than CMMI, 24x7 real time applications monitoring, which are delivered through a common tooling and process framework. Our integrated operations model will ensure cost & manpower optimization by integrating infrastructure & applications operations, achieve operational excellence by measuring response time SLA's for business applications and significant improvements in first call resolution due to an integrated service desk.

Adoption of Cloud

Enterprises use cloud platforms to gain immediate access to resources to create new applications on demand. Public cloud computing has seen increasing adoption across enterprises. However, its widespread use is hampered by the reluctance of IT professionals to allow business-critical workloads on the public cloud. These challenges have been sorted out with the use of a common platform across both private and public cloud that seamlessly links them together to a hybrid cloud.

To make the most of technology opportunities such as cloud, virtualization, soft data centers, mobility, and virtual desktops, IT leaders must integrate technology with latest trends to meet user needs and reduce the overall cost.