Underwriting the Conversation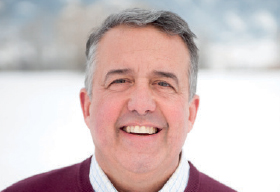 Speaking before audiences is effective because it gives you a chance to demonstrate your expertise and not just tout it. Providing insight into blockchain technology is stronger than saying you are expert on all things blockchain. Better to show your acumen and let others conclude you are an expert than to make the claim yourself.
The power of this tactic is why, increasingly, conferences are monetizing the dais by charging professional service providers for the chance to speak to their audience - the so-called 'pay to play' charge. If you sponsor the event, the organizers will give you a speaking slot. But what if you don't have the budget or prominence to keynote? How do you harness this kind of 'front of the room' power to drive your outreach and engagement? Meet the peer panel. The idea is simple. Host your own event and piggyback on the authority of your featured speakers. Here's how it works:
• Invite three to five leading executives to headline an event focused on best practices.
• Level up for the panel,meaning if you are focused on an audience of CFOs of $50MM companies,the panelists should be CFOs of $500MM companies.
• Moderate a conversation between the group before opening it up to questions.
When you send out invitations to your target audience, the invited "stars" will add luster to your event and help drive participation. More importantly, though, you will be positioned as the host of the conversation.
• You'll demonstrate your expertise by asking great questions.
• Your brand will become associated with the success and status of your panelists.
• You will communicate you care about the issues.
• You will position yourself not as an expert with a point of view you are trying to hawk but as a bee, cross-pollinating best practices.
Hosted panel discussions position you as not just another subject matter expert, but instead as a trusted partner who cares enough the problems facing companies
Here's how to make sure the panel is a success. Interview each of the panelists beforehand on the topic to get a sense of where the gold lies. Ask the panelists questions about where their pain lies. Odds are high that your audience will be struggling with the same questions.
• 'What are your three highest priorities this year and what gates you from making them happen?
• 'What is the CEO asking you to do?'
• 'If you could benchmark one initiative you are taking against your peers what would it be?'
The key is to find the heat in these executives' work. Not only is that more interesting, it is at the heart of the hard decisions you audience are working through. If you ask your panelist for the three things they are doing to safeguard their operations and they answer, "network security, managing user privileges and reducing mobile exposure," you are likely to have your panelists all nodding their head in agreement. That is because there is little controversary around this matter. Better is a question that divides your panel like,"Is innovation better served by letting a workforce choose their own mobile devices or is the price paid in security too high?" Now you have plugged into a debate that is alive in the heads of everyone in the room.
Moderate a compelling panel of this sort, and the next time you write a prospect who attended the event requesting time, they will warmly make time for you. Would n't you want to sit down with an expert who is smart, connected, who cares deeply about the problems you face and who carries with them the latest in best practices? Hosted panel discussions position you as not just another subject matter expert, and there are a lot of them, but instead as a trusted partner who cares enough the problems facing companies to under write the conversation that is inventing the future.