The Co- Living Breakout: Indian Millennials Looking Towards Shared Living Spaces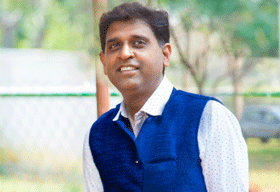 Headquartered in Bangalore, CoLive is a technology-based real estate solutions company that enables students and working professionals to shared living accommodations as per their choice of location at affordable rates.
In India, there are hundreds of thousands of millennials living away from home in another city, either to pursue higher education or build their careers. In addition, the country is at present in the midst of a massive sharing economy revolution, led largely by the 18-35 year-old demographic comprising students and professionals. Following close on the heels of the success of co-working spaces and ride-sharing services like Ola and Uber, co-living is the latest buzzword that's taking the sharing economy phenomenon to a whole new level.
Co-living is a new segment in the real estate sector wherein property management company leases space from developers and property owners to create a shared living space where tenants have easy access to facilities like food and internet. While the concept has become quite popular in the U.S., and European countries, the trend of co-living is still at a nascent stage in India. However, the tremendous response it has received from young, urban dwellers in the country, its potential for growth in the future is immense.
Co-living Spaces: A Boon to Digital Nomads
The sharing economy has, without a doubt, made life significantly easier for millennials residing in metro cities. As most young students and professionals would agree, finding a home to rent is a major hassle for them. Either the rents are too high, or the location is not right, or landlords don't want to have bachelors and single women as tenants. In such a situation, finding a suitable accommodation that has all the basic necessary facilities, and is affordable becomes almost impossible for renters. Co-living spaces, therefore, are increasingly becoming popular among these young professionals, students, and
even couples who seek affordable and well-equipped homes. Convenience, along with affordability, is another key reason these individuals prefer co-living spaces over renting a flat by themselves. Unlike a rented flat, co-living spaces are fully serviced homes that enable tenants to access hey housekeeping, repairs and maintenance of the home is taken care of by the firm providing the space.
Considering the sheer number of people who migrate from one city to another for education or employment, the sustainability of co-living is one of the key factors in its present, as well as future growth in India
Co-living space firms operate on the plug-and-play model, leveraging the latest technology to ensure the best quality of services are delivered efficiently through easily accessible touch points, thereby enabling tenants to easily take care of household chores and maintenance, simply at the click of a button. A demographic segment that comprises so many digital consumers, millennials, who frequently use apps for daily necessities find the convenience of co-living spaces quite conducive to their tech-driven lifestyles. Also, the rents that tenants pay are minimum and include the cost of electricity, TV, laundry, and other maintenance charges as well. Therefore, millennials are naturally drawn to this modern, cost-effective housing solution.
Moreover, this digital-first generation is open to chase new experiences and opportunities, and unlike the generations preceding them, is averse to monotony, be it in their jobs or the city they live in. These young individuals seek like-minded people to interact with in their daily lives, so it's no surprise they are increasingly seeing co-living spaces as a way to be a part of a larger community. There is also a greater sense of security that co-living spaces offer tenants, especially those who have recently moved to a new city. For instance, facilities like 24-hour security, CCTV surveillance, background verification of staff and residents, makes co-living spaces much safer than PG or independently rented accommodations.
How Co-living Benefits Property Owners
Property owners and people investing in residential real estate have been left disappointed lately due to the dwindling returns from real estate investments and the recent slump in the market. Thus, instead of selling, a lot of these investors prefer to rent out their properties due to the exponential growth in the renting economy. By leasing their properties to co-living and property management firms, investors can enjoy substantial returns in the form of rentals, along with the assurance that their homes are taken care of by professionals.
A number of start-ups in this segment are making excellent progress in promoting the concept of co-living, by offering millennials a seamless, tech-driven experience to find affordable accommodation options. Considering the sheer number of people who migrate from one city to another for education or employment, the sustainability of co-living is one of the key factors in its present, as well as future growth in India. Also, with millennials becoming averse to buying homes until later in life, the sense of community and the feeling of 'a home away from home' will draw more of these young individuals to shared living.