Talent Development as a Competitive Advantage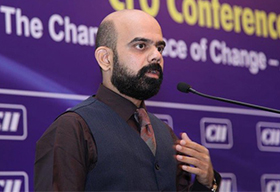 Kochi-based MobME was founded in 2006 as a mobile media and entertainment company focused on analytics, FinTech, digital banking, and value added services for mobile users and carrier grade solutions for network operators.
Most organizations across the globe have a clear agenda on leadership development and have it stated as a key strategic objective as well. However, in a recent survey conducted by Fortune, only 7 percent of CEOs believe their companies are building effective global leaders, and just 10 percent said that their leadership-development initiatives have a clear business impact. Similarly, McKinsey's research reports that only 11 percent of more than 500 executives polled around the globe strongly agreed with the statement that their leadership development interventions achieve and sustain the desired results.
The specific answers on how to fix the poor results of such development efforts are equally varied; clearly there is no "one size fits all" for leadership development that can be applied across organizations. It goes without saying that most CEOs are staunchly committed to significantly fostering talent in their organization. There are a number of organizations who have succeeded in doing so, and the results speak for themselves – be it market valuations, being termed as a great place to work, revenues/profits, success in every metric that is measured.
In writing this article, and having recently initiated a talent/leadership development exercise of my own at MobME, I have put together aspects and learnings that I will use, and I hope can be used by the reader as well. In aiming to succeed at this talent development program, I am drawing from the success and learnings of many organizations that have pioneered ideas that have propelled them to achieve their strategic objectives.
Leadership Starts with Oneself
This maybe the most difficult of all but it is indeed the most important. A CEO cannot lead an organization if he/she cannot lead themselves. It is sacrosanct to begin with oneself, to cultivate the motivation and discipline to lead, and then transfer the energy in doing so toward the employees, customers and the overall business.
Talent Needs to be part of Every Conversation
An important goal is to ensure that conversations around talent are year around and not at a specific time of the year. The specific aspects around performance reviews, and raises will still need to happen at the required timeframes but; talent as a conversation needs to be ingrained in the thought process year around. By doing so, the CEO will drive a talent first organization that will eventually become the driving competitive advantage.
Leadership is About Developing Leaders First
The primary role of a leader is to develop more leaders. This is the fundamental reason why some organizations continue to thrive even after the departure of legendary leaders, while others begin fading on multiple performance parameters after similar departures. Developing leaders is equally important as achieving the operational & financial objectives of the organization. The right mix of leaders is the most important factor in this exercise. As customer expectations of products & services continue to change, leaders will also require being diverse. As we all know, the traditional role of a business leader with limited product knowledge is almost non-existent today. Product owners and technology leaders will continue to play important roles in strategic decisions.
Aligning the Board of Directors is Vital
For those companies that have a Board of Directors, it is vital to involve & align the Board in the talent development strategy. The same McKinsey research also shows that Boards are confident of their organizations' strategy but are less clear on the people development and culture aspects of the organization. Involving and aligning the Board on the overall talent strategy and having specific Directors participate in evaluation of senior management personnel other than the CEO will have a profound impact on the specific individuals to percolate the talent first agenda across the organization.
Hiring is the Most Important Process of All
This is a key trait that has been mastered by Google and shared widely by many other companies. Effective hiring creates a ripple effect, as it's said repeatedly "great people attract more great people". The best investment that leaders, managers and senior executives can make is in effective interviewing that will in turn onboard the best talent into the organization. For incumbent CEOs it maybe difficult to change cultures that have existed for many years, but the culture can always be positively reinforced by effective hiring.
Talent Development is about Effective Learning
The traditional means of talent development having sessions of leadership, with participants going back to organizations with the same rigid practices & biases are outdated. Talent development is about effective learning – technology, best practices, mentoring, and constant communication. The power of collective intelligence will manifest itself over the course of these learnings, and thus allow the development of superior talent across the organization.
The power of collective intelligence will manifest itself over the course of these learnings, and thus allow the development of superior talent across the organization
People Analytics & Data is at the Core of Decision Making
Organizations that have successful talent development programs place data and people analytics at the core of their decisions. Subjective opinions need to be replaced by data that is equally available to the specific decision makers to ensure parity in the decision making process. Similarly, people analytics should focus on performance metrics that are measurable across equally set parameters to foster the right set of decisions. The process of doing these exercises is laborious but the ensuing results at the successful organizations have repeatedly proved that these exercises work.
Empowerment drives results
As the CEO of Haier said – "the CEO has to learn to lose control, step by step". It is thus important to base talent development on empowering the right personnel who can provide the next set of business ideas, strategies and actions that will help realize a compounding effect in terms of end results. Empowering the right personnel is the final step towards building leaders who can successfully carry the strategy of the organization on their shoulders. Empowering personnel with the ability to adapt & learn the nuances of new roles, also known as rotation, combined with responsibility and accountability, can unleash considerable positive changes in an organization's performance.
While the above learnings are only a small part of the many strategies that can be used to develop talent, it is clear that organizations can effectively shape their future by implementing a well-defined people first agenda to accomplish their overall vision and related objectives.