Online Fashion Shopping - Whose Market Share is it Eating?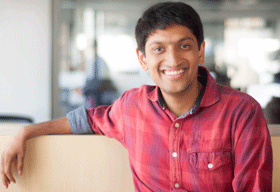 Fynd is one of India's largest O2O fashion e-Commerce portal offering a wide spectrum of products for both Men and Women across clothes, casuals, sports shoes, men's wallets, ladies hand bags, watches, accessories, and many other categories.
The streets of Linking Road and Colaba Causeway in Mumbai, Park Street in Kolkata, Brigade Road in Bengaluru, and Sarojini Nagar in New Delhi are always exploding with colours and chaos. The tens of hundreds of stalls tucked away in the side lanes of these streets are thronged by locals and foreigners hunting for fashionable bargains. From funky jewellery to shimmery purses, colourful footwear, trendy apparel and more, the fun and thrill experienced during street shopping are absolutely incomparable with the experience at sophisticated boutiques or shopping malls. Customers loosen their purse strings with great enthusiasm thanks to the huge variety of fancy and attractive designs in different sizes and colours that are available at throwaway prices. Visiting these vibrant bazaars in India is nothing short of an adrenaline rush.
But with technology making strides in every sector, a customer's shopping pattern has also undergone massive changes in the country. The emergence of online fashion has seen customers shift their buying preferences to the virtual world. While street fashion has the ability to magnetise consumers with the promise of convenience, accessibility, and offer a wide variety of popular brands, online fashion does not lag behind when it comes to ease of shopping, attractive deals and anytime, any where shopping facilities. The penetration of organized retail in India was very low in the initial years of 2004-2005. As per HSBC, India Retail Reports 2005–KSA Technopak, E&Y, and Rocsearch, only three percent of the total retail landscape of India was organized. The major retail groups such as the Rahejas, Tata, Landmark, and Madura were still establishing their roots in the country when they witnessed two major issues that hampered their growth. The lack of demand(low aspirational value of brands) and high upfront cost of geographical expansion were the roadblocks faced by these business giants. Though they dealt with a lack of demand by working on the branding aspect and by
enhancing the aspirational value of their brands, they were clueless about how to tackle the high upfront costs involved in the expansion.
The modern consumer is fickle minded. Depending on the urgency & need, a customer switches between online shopping and street fashion
The emergence of e-Commerce players proved beneficial, as they were able to bridge the geographical gap and enable people to shop for their choice of brands online. So now, a person living in a remote area was able to order a Celio T-shirt or Suit set from Soch, even without the physical presence of the store in their locality. This helped retail businesses to gain extra volumes and also reach out to each and every city of the country.
Online vs. Street Style
Online players reduced their margins on products to negligible amounts and hence the overall cost of goods (especially apparel) went down heavily. As a result, those customers who bought the first copy of a brand at Rs. 200 from the streets shifted to buying online, as they were able to get the original product for as low as Rs. 300-400. This became a major reason for people to upgrade their fashion from unorganized street products to organized products online. The price gap between the two shrank and the customer didn't mind a shift to a better quality product at some extra cost.
Growth in Online Fashion
As per a Marketline report, 2014, the online retail business is growing at an impressive rate of more than 20 percent per annum and it is eating upon traditional street fashion. According to a Google report, fashion retail on e-commerce portals is expected to constitute 35 percent of the total online retail revenue generated in India, which is expected to touch at least $35 billion by 2020.The introduction of private label brands such as Abof, Roadster, and HRX, etc. Are making the creation of aspirational brands much cheaper. It is also motivating people to shift their fashion preferences to online. At the macro level, this strategy seems profitable and the growth rate of online fashion retail is therefore expected to rise at the same pace as that of traditional street fashion. And in that case, it doesn't seem to be a war between online and offline market of the same brand but a war between online private label brands and traditional unorganized markets. Only time will tell which one sustains and is able to attain the maximum market share.
The modern consumer is fickle minded. Depending on the urgency and need, a customer switches between online shopping and street fashion. Understanding this fickle-minded and price conscious nature of consumers, omnichannel platforms are cropping up in the fashion space. So, if you love shopping but the variety of the streets or stores does not impress you, then there are platforms offering you customised fashion. These omnichannel platforms are blending the best of both worlds and enabling customers to discover fashion in real-time. Therefore, customers no longer need to worry about their favourite colour or preferred size going out of stock. With the assurance of superior product quality, personalized product feed, and speedy delivery, unparalleled shopping experiences are being offered to customers and increased sales are being assured to brick and mortar retailers. As famous fashion designer Ralph Lauren rightly puts it, 'Fashion is not necessarily about labels. It's not about brands. It's something else that comes from within you'.