How Indian Startups are Benefiting from 3D Printing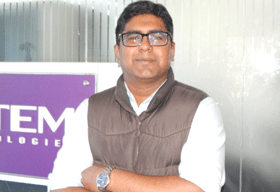 Headquartered in Bangalore, Altem Technologies is one of the leading Product Lifecycle Management company offering a suite of solutions that include 3D Printing, Reverse Engineering, 3D Prototyping, Rapid Prototyping, Additive Manufacturing, 3D Scanners, and many others.
The 21st Century saw a major boom in the manufacturing and products sector. New and innovative products hit the market and are continuously changing its form and function to the adapt to fast changing demands of its consumers and the even faster growth in engineering and technology. And Corporations whether it be large or small must innovate endlessly to keep with the pace of growth. The last decade saw the fall of many multi-billion corporations and the rise of many new startups which rose from just a few college kids in a garage to a multi-national cash rich company, and all of this was directly linked to one thing 'Innovation'.
The past decade has also seen a boom of the startup culture, many innovative minds decided to let go off working for large corporations to build technology centred businesses that have changed the way consumers lead their life. e-Commerce revolutionized the average users shopping experience where many Indian smartphone brands brought power to the hands of the average Indian.
Startups are more synonymously seen as IT based companies, the products of which are essentially software that are running on a smartphone or a computer. However, there are many companies whose business is building hardware products which is physically manufactured.
3D Printing today has become a very critical part of any product development
and manufacturing cycle, for those who may or may not know the challenges of traditional manufacturing, it's a time consuming, costly process full of constraints which if not properly adopted in design processes can lead to further increase in production times and costs. Also, as it is evident from all the start-up stories that we have heard or seen in recent times, these are cash constraint companies with very little or no money to go for expensive manufacturing processes to produce test run samples of their products.
The impact of 3D Printing on the product lifecycle is principally because it saves time, cost and effort - three things which smaller companies and startups have redundancy of
These are the two bottlenecks between the idea and the market which have brought startups closer to using 3D Printing. 3D Printing is a process of making physical objects from a CAD design by successive addition of material layer-by -layer without use of any specialized tooling. The process enables users to create physical models of their products without having to worry about quantities. It allows for experiments and design creativity without the risk of high expenditure. Also, many hardware based start-ups especially in the consumer electronics and few other domains due to lack of manufacturing experience are often self-taught CAD designers with limited knowledge of manufacturing processes and as 3D Printing has limited design constraints, users are able to successfully make what they want without deviating too much from their focus.
Also, many hardware start-ups in India are companies who build customized products such as drones/quad-copters with many variants depending upon their customers which hence require customized parts in low volumes which are only effectively possible with 3D Printing by either directly 3D Printing the part or using 3D Printed parts as master patterns and use processes like Vacuum Casting or Investment Casting to create the end use parts.
In the last couple of years many hardware start-ups have adopted 3D Printing either by form of buying small 3D Printers or using service providers depending upon feasibility and the scale of requirement.
However, 3D Printing is not limited to technology startups only. Many non-technology small businesses in fields like Jewellery and Fashion have resorted to 3D Printing to easily and effectively manufacture intricate parts. The whole boom in the need of 3D Printing to small companies and businesses has led to many startups offering 3D Printing (machines and/or services) which have now become big companies. The impact of this technology on the product lifecycle is principally because it saves time, cost and effort, three things which smaller companies and start-ups have redundancy of.