Decade Long Story of Automotives In India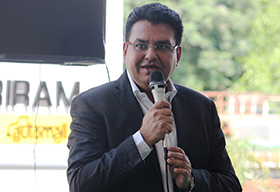 Founded in 2011, Shriram Automall India is based out of Delhi and provides well structured bidding platforms for buying or selling of pre-owned vehicles and equipments.
India is now the fifth greatest market for passenger vehicles and the largest market for two-wheelers, on account of the developing populace of two-wheelers and a managed interest for bikes. More than three million PVs and twenty million bikes are acquired locally in a year. But the industry hasn't always witnessed this growing spree. It has seen fair share of ups and downs along the way. The Indian automotive industry has effectively multiplied the local market for passenger vehicles (cars, utility vehicles and vans) and bikes over the previous decade riding over the different difficulties and years of low or no development.
It has not been an enduring development as there was a very long time of low or no sales because of macroeconomic issues. Be that as it may, individuals require transportation and this industry mirrors the request of the masses. The previous decade additionally observed the development of the automotive industry. India is no more a market of buyers who used to be happy with an entry level model of the vehicle. Buyers now are eager to put significantly more than Rs.500,000 to acquire their dream cars.
There has additionally been a solid inclination for sports utility vehicles (SUVs). As seen in success of models like Maruti Brezza and Hyundai Creta, now we can see almost every manufacturer bringing SUV models down the lane. SUVs were at one time only manufactured by players like M&M and Tata Motors, though now every automotive manufacturer has it.
From past couple of years SUVs in passenger vehicles has achieved one-fifth share from under 10 percent. The decade likewise observed a great deal of progress in pecking orders of automotive manufacturers, as Tata Motors lost its situation as the second largest auto maker to Korean organization Hyundai. Maruti Suzuki saw its share of the overall industry decrease amid 2013/14, though company substantially recovered it. It now holds 50 percent share in PV segment, while all the rest of the players together hold half. The main second player with a twofold digit share in the industry (around 16 percent) is Hyundai.
Increase in buyer's income also led to entry of more luxury car makers e.g. Volvo, JLR and Lexus in recent years. These brands have joined any semblance of Mercedes Benz, BMW and Audi. The attention towards the environment likewise prompted enforcement of stricter emission standards BS-III and after that BS-IV for vehicles across the nation.
The administration chose to skip the BS-V emission standards and go straight to BS-VI standards from 2020. The government has begun focusing on automakers to move to the greener vehicles, including electric and hybrid vehicles.
In past 10 years, industry also observed regulatory actions against diesel vehicles in urban areas like Delhi. This, combined with decontrol of diesel costs, has affected the inclination for diesel cars. The demand for diesel cars in passenger vehicle segment is now down to less than 25 percent from over 50 percent a few years ago.
India is no more a market of buyers who used to be happy with an entry level model of the vehicle
Entry of taxi accumulating platforms like Ola and Uber has changed the way individuals drive and these organizations have likewise become the real purchasers of automotives to be used as taxis from automakers and major used vehicle providers like Shriram Automall India Limited (SAMIL). Domestic passenger vehicle industry has additionally observed robust increase in export of cars of different make and model from India to over hundreds of different markets around the world. India now exports more than 700,000 cars annually. American auto creator Ford is the biggest exporter, trailed by Hyundai and Maruti Suzuki.
Embracing the technology, over the years a great deal of advancement has been made, now substantial number of automotives including passenger vehicles, commercial vehicles are produced with airbags to avoid on-road fatalities. Any new automotive that enters the market, now should have mandatory airbags. Similarly, commercial vehicles have additionally turned into fuel effective, technologically advanced, comfortable vehicles with the entry of global players like Volvo, Daimler and Scania, in the market. In the two-wheeler market, India has seen the likewise growth in the past 10 years. Indian two-wheeler has emerged as the world's largest two-wheeler market.
In past decade, two-wheeler segment has also observed various global premium two-wheeler manufacturers entering the Indian market, for example, Harley Davidson, Triumph and Ducati. Rising number of customers looking for luxurious riding has extended the market for capable motorcycles/cruisers. Further past decade witnessed solid restoration in the fortunes of bullet maker - Royal Enfield.