Blockchains will transform customer experience for companies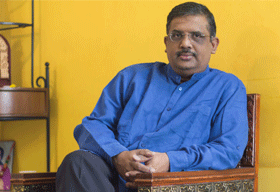 Headquartered in Mumbai, Hansa Customer Equity is a Marketing & Advertising firm that enables Businesses to build intelligent, intuitive and real-time customer relationships by leveraging and offering solutions in the areas of Digital Marketing, Social CRM, Consulting Services, Campaign Management, Customer Analytics, and more.
Blockchain is widely associated or much is written about it, on how it can change the world of finance. However, blockchains have the potential to go beyond the world of financial transactions and can help enterprises in transforming their customer experience. In reality, there are 'trillions of customer experience micro-moments' in companies that can be intervened through blockchains to make a difference. Blockchain is a technology that has a potential to change how companies do business.
To understand the implications of blockchain in customer experience applications, for a moment, let's pull back and understand what is blockchain all about. Blockchain enables transactions to occur without a single authority to manage them. How this is done is by recording transactions on an electronic 'ledger' that everyone can access. Computers all over the world hold copies of this ledger and continuously work to verify transactions registered on it. Transactions made on the blockchain are stored forever, and it's impossible to tamper with them or alter them once they're made. Sensitive information relating to each transaction can be cryptographically secured, which means that it is only accessible by those with the right keys to unlock it. That information can be disclosed at will by the parties involved in the transaction. Blockchain democratizes and secures transactions, taking transactional ledgers from the hands of authorities and putting them into the hands of everyone.
Unleashing the Power of Blockchains in CRM
Now, let's take the example of millions of identities or data or records that companies have about customers, their product ownership, payments, service history and other aspects in CRM and not to mention their interactions with companies. Every interaction right from the time customer purchases to post-purchase is an opportunity to hold an electronic ledger of transaction and manage customer service proactively. Imagine managing the experience of product delivery using blockchain. Every aspect of the delivery
at every stage, right from the product leaves the factory, to reaching the warehouse, to moving the product to customers' home can be tracked via GPS, held as an electronic ledger and the payments can be released at every stage once each of these milestones is completed in the product delivery journey and tracked within the blockchain. For the customer, it becomes the one source of truth and there are proactive updates for the customer, thereby improving customer experience and satisfaction.

"Companies who will be successful tomorrow will be the ones who will build innovative blockchain platforms to empower and make customer experience count on scale"

Similarly, in a post-purchase scenario, every service interaction can be an opportunity to be tracked with the blockchain. Right from the time a complaint is registered to the time the service engineer is despatched to service engineer resolving the issue to payment post service and closure of the service ticket is an opportunity to be recorded, tracked and reported. At any point of time, the status can be a 'moment of truth' for the service experience and measuring the quality of turnaround time in addition to the service delivered. All the interactions are recorded within the blockchain and this then becomes universally available as records for service complaints, handling and allocation of service complaints within service teams, response time validation of service teams reach the customer on time, and others. The customer too has access to these records and hence resolution becomes faster and proactive.

Smart Contracts Based Customer Experience
Similarly, there are huge opportunities to improve customer experience by creating 'smart contracts' with customers using blockchain. Especially with subscription-commerce growing by leaps & bounds, having 'smart contracts' with customers can be a great application to improve customer experience. This is especially becoming more compelling as there is a momentum towards 'unit- based pricing' in categories like insurance. Therefore, when pricing will become unique to every customer, based on their transactional behaviour, their health data, driving behaviour, and other aspects, the pricing contracts will require smart contracts based on blockchain. Every interaction will need to be 'electronically legalized' so as to ensure customer queries on pricing, service SLAs need to be differentiated for every single customer. These mean that there are millions of transactions that need to be universally available to every stakeholder across the organization and also empowering the customer with all this data to ensure there is a transparency in the pricing model. Again, this is a huge area of differentiated customer experience blockchains can enable.

Blockchain Based Smart Customer Data Lockers
Another area of application that can transform how customers are identified and managed in organizations is the way customer data or identity is stored. We often know how customer data and information is maintained poorly by enterprises leading to poor satisfaction & customer experience. Surely, this is area where blockchain technology can make a huge difference. The way customer data can get encrypted and stored securely, having the right security checks before customer information is shared, including personal information, health care data is another area where customers can experience a huge difference in the way companies deal with them. Companies may not have to worry about how compliant and safe the data about their customers are maintained, and customers can be rest assured that all their personal information is safe and complaint, which can be accessed by multiple vendors or service providers. This gives a seamless experience to customers and all their information is secure yet hassle-free for universal access.

Innovation in blockchain based customer experience applications is waiting to happen. As millions of customers get online or mobile-enabled, the companies who will be successful tomorrow will be the ones who will build innovative blockchain platforms to empower and make customer experience count on scale.