Big Data & Advanced Analytics Forge a Stronger Relationship with the Food Processing Value Chain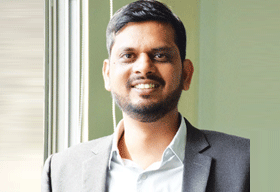 Founded in 2010, Bangalore-based CropIn Technologies is an agritech startup offering farm management software and mobile apps to analyse, interpret and gain real-time insight on crops and farms, so as to be able to take corrective measures on time.
There is no substitute for food, not yet anyway! The world population is going to reach 9.1 billion by the middle of this century and in order to feed these numbers, there needs to be a 70 percent increase in the agriculture growth. It is this need that has without a doubt driven the agricultural industry into the forefront of technological disruption.
The natural resources like arable land and clean water are shrinking and the climate is getting increasingly unpredictable. In such demanding and challenging situations, it is prudent to adopt the technological advancements and their disruption in the agriculture space. An increasing number of agri-businesses are now investing heavily in collection, storage, and management of data, its analytics, and in decision modelling tools.
Technology, especially Big Data & Advanced Analytics, has the potential to reshape the alarming trends and looming threats in the agricultural space. Technology is disrupting all levels of the food processing value chain, driving innumerable opportunities & challenges especially when it comes to profitably feeding the 9.1 billion people who would be populating earth by the year 2050.
The world today is more interconnected than ever before and resultantly generates a huge amount of data. Exploration & analysis of this data can actually assist in driving decision making and bring about a transformation in the whole food value chain.
IoT, Big Data & AI are the troika that has found its way and ample opportunities in the agricultural ecosystem at each stage of the food value chain. Big Data is one of the most crucial growth drivers of this industry where all data is democratized for all stakeholders by inclusion of all beneficiaries on a common technological platform.
Small sensors within your phones or those that can be clipped on to your phone and more IoT devices are making it easier for the agri-businesses to not only collect data and store it safely on cloud, but helping the process of decision making for agribusinesses. The trend of this disruption can be established by the prediction that an average farm in 2050 would be generating 4.1 million data points per day, which is a huge jump from 190,000 points in 2014. Also, IoT device installation number which stood at 30
million in 2015 would reach 75 million in 2020, which indicates a huge CAGR of 20 percent.
The precision agriculture market is growing at over 13 percent per year and expected to reach $3.7 billion by 2018. According to a survey conducted by the American Farm Bureau, the use of precision technologies reduced input cost by 15 percent and increased the crop yield by 13 percent on an average.
Technology in the agricultural space is a great proponent and has great potential for making profitable farming possible without leaving an unfavorable impact on the environment
With AI devices, particularly drones and robotics disrupting the agribusiness, several processes like monitoring of crops, detection of pest infestation, monitoring of optimum input (pesticides, fertilizer, water and several others) usage and more have become simplified and more cost effective. It is for this reason that in near future, it is predicted that agriculture would make-up 80 percent of the potential market for drones.
The need for this technological disruption in agriculture is also driven by the modern consumer. The modern consumer is aware, responsible and has a better disposable income today. They are looking for food that has been produced sustainably and are particular about gaining as much knowledge as possible, while making the buying decision.
In the absence of traceability, an organization of great repute was mired in crisis when its bestselling product in India - a popular brand of instant noodles was banned by FSSAI for a higher than permissible lead content. The players in the AgTech industry have got smarter now and are picking-up on consumer demands and making farm to fork traceability possible with the help of technologies, including but not limited to QR codes. Apart from meeting the requirements of the modern-day consumer, the AgTech companies are also reducing wastage through achieving traceability, ensuring quality, and formulating a better supply chain. It has been established that when we increase the supply chain efficiency by five percent, there is a 10 percent improvement in the yield.
A positive example in this regard is that of the Sahyadri Farms, an FPO (Farmer Producer Organization) of individual fruits & vegetables growers who farm on less than one hectare of land. These individual farmers belong to the category of the 'Marginal Farmers' of India. They started growing grapes with the intent to sell the same to exporters. The export standards and guidelines at every stage of farming are extremely stringent and lucid. As the farmers approached the exporters, they faced the challenge of meeting the strict requirements on traceability, compliance & quality control set by them. With apt technological disruption, they achieved end-to-end traceability from farm to fork, capturing data and visual information at all levels, right from pre-sowing till shipping, and generating barcodes for each inventory item produced through the processing line. This means that if you were to buy grapes from Sahyadri farms anywhere in the world, you would be able to trace it back to the exact farmer and the land that it came from.
It is not a point of contest today that there is substantial technological disruption in the agricultural system, and the stakeholders, including the agribusinesses, farmers or growers, and the end consumers, are all responsible for and proponents of this disruption. The agricultural ecosystem is looking ahead towards the principle of sustainability to translate into food, feed and fibre.
The entire food value chain or the agricultural ecosystem is moving towards responsible practices and sustainability in an effort to reduce wastage, bring the costs of inputs down, and increase the yield. Technology in the agricultural space is a great proponent in this regard and has great potential for making profitable farming possible without leaving an unfavorable impact on the environment.