Rohde & Schwarz India: Recognized for Innovation Trusted for Quality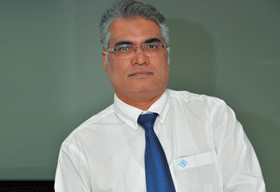 In India, the company is present as Rohde & Schwarz India Pvt.Ltd., which is hundred percent owned subsidiary of Rohde & Schwarz GmbH KG & Co, Germany, whose head office, is located in New Delhi and branch offices in Bangalore, Hyderabad, Chennai, and Mumbai. The company emphasizes on providing outstanding sales, services, and support to its customers. Also, R&S takes great pride in their customer-centric approach and have invested heavily to increase the local support capability as well as to provide fully automated calibration facilities for most of the products sold.
As an ISO 9001:2000 certified Quality Management Systems and ISO 17025 Accreditation by National Accreditation Board for Testing & Calibration Laboratories (NABL) for its Central Repairs and Calibration Laboratories in Bangalore. The company continuously invests in training its engineers, service and sales personnel regularly to maintain a high level of technical competence in pre and post sales support and outstanding quality in services viz.
Repairs, Calibration, Product support, R&D & Project management.
Today, Rohde & Schwarz has achieved a positive result in the test and measurement field by bringing numerous innovations to market, particularly in the area of spectrum and network analysis. And, R&S has strengthened its leading position in technologies such as HSPA, WiMAX, UMTS/LTE, and 5G.
The Genesis
Upping the ante, R&S's road to India dates back to 1990 when Mr. Yatish Mohan joined the R&S liaison office as a sales manager, T&M, for North India region. That was the start. From there to now, R&S India has come a long way from where it all started.
Sailing against the wind, initially, the business was tough as it was limited to only aerospace, defense, and government organization. Local manufacturing or R&D, on the other hand, was still in the nascent stage in the private sectors. In addition to this, India was also passing through a crisis with regards to Foreign-exchange(FX)reserves. As a matter of fact, for a few years, the total order intake was equal to the total expenditure of the company. Amidst all this, R&S remained committed to India.
Gradually, the market situation also started to improve, and around mid-nineties, India built-up adequate FX reserves and the private sectors began to mushroom. In no-time, the company grew its revenue and workforce. In 1996, Mr. Yatish got promoted as the country manager for sales. By this time, the team had 25 people and owned a small office in several cities. As time progressed, in 2000, he became the Director of R&S.
Even in this slow-moving market scenario, the company has managed to achieve 15-20 percent growth every year, and this was possible because of the teamwork and determination of the employees to take the company to newer heights in India. "Today, R&S is like a big global family for me. We all work with a lot of respect for each other. The best thing about this company is that it is constantly growing, empowering its employees and giving them a lot of freedom at all levels," avers Mr. Yatish Mohan, Managing Director, R&S India, with joy.
Innovation: A Corner Stone for Rohde & Schwarz India
Throughout the history of R&S India, the company has been known for its cutting-edge technology solution, and more than anything the team takes immense pride in enhancing the clients business to a whole new level.
"Apart from enjoying the market success and working with some of the big names in the industry. We have a state-of-the-art R&D center in Bangalore & Delhi, where we continuously ideate, innovate, and develop new products, which will be applicable worldwide," proudly states Mr. Nasser Jariwala, Director – Marketing, R&S India.
Currently, R&S India is focused on 5G, which will be a game changer in the industry. "Today, the demand is for the connected and secured world, we are well positioned in this market to take complete advantage of the global scenario. Since we offer a wide range of products right from communication, connection, and security, we are well
equipped to address the pain points that exist in the market," asserts Mr. Nasser, confidently.
Rohde & Schwarz India provides a gamut of services and solutions to its clients in Test and Measurement, Broadcasting & Media, Secure Communications, Video Monitoring, and Cyber Security
Most importantly, over the years, the company has had a robust experience in providing numerous products right from millimeter to microwave range frequency to its customers. Now, the company has mastered the art of 5G technology. "There is no doubt that we are on the cusp of technology to deliver innovative products and solutions to the customers," enthusiastically, states Mr. Yatish.
An End-to-End Services & Solutions
Today, R&S India has pioneered in RF and wireless communication. And, the company provides a gamut of services and solutions to its clients in Test and Measurement, Broadcasting & Media, Secure Communications, Video Monitoring, and Cyber Security.
Mr. Nasser, emphasizes "We offer turnkey solutions to the customers. Instead of box selling, we offer result-oriented solutions to our clients, where we conceptualize as per customer requirements, and then only offer them our products."
Also, R&S India provides Automated Testing Equipments(ATE)solutions, repairs, and on-site calibrations amongst other services. Additionally, the company renders training services to its customers. Overall, R&S India serves end-to-end solutions to its clients.
Mr. Yatish exuberates "There is a lot of Trust when a customer partners with Rohde & Schwarz. For us, competence is everything, where we train our people, not only in India but also in other places like Singapore, Germany, and the USA. Therefore, our team is well acquainted with the products, technology, and usage, both in quality and experience. In terms of service delivery, we are always committed to our customers with the high level of integrity. We make sure not to over-commit. That's our motto!"
Harnessing the element of trust and reliability, the company leans towards development and strategic services. For instance, R&S India has Demo Centres in all its offices and service centers, where the clients can validate the test results, check, and then only go for the final investment of products.
Excellence & Leadership in CSR
Over the years, R&S India has been part of many CSR activities, where the company has actively been part of supporting the backward class of the society through sponsorships and events for a cause. Also, the company has collaborated with CSIR-National Physical Laboratory in New Delhi for the same. More than anything, R&S India is inclined towards educational institutions, where they are setting up infrastructure, technology labs, music rooms so that the students are able to effectively utilize them and be ready for the jobs that the industry demands. For merit students, who financially unstable, R&S India provides financial aid to support their education and helps them get admission in universities and college.
"We feel enthralled to do CSR activities. We want to expand this further in the coming years so that we are able to give back something to the society. In every little way we can, and contribute towards nation's development and prosperity," says Mr. Nasser.
The Roadmap Ahead
Globally, R&S is an EUR 2 billion company. In the last fiscal year, the company has achieved US$ 70 billion in sales. R&S in India, in the past few years, has achieved a sustainable growth, with more than 58 percent CARG. From a market perspective, the Test & Measurement space is growing about 7-8 percent in India, and in the coming years, the company envisions growing 15-20 percent. In terms of workforce, today, about 150+ people work for R&S India, and the majority of them are engineers. And, the company enjoys low employee retention rate.
Headquartered in New Delhi, R&S India has PAN India presence, where they offer effective services and solutions to its clients across various segments. Mr. Yatish optimistic about the future of Rohde & Schwarz concludes "The goals of the Centres are simple, use futuristic technology to create faster, more secure and reliable products for R&S customers, and improve upon existing solutions."
Nasser Jariwala, Director – Marketing, Rohde & Schwarz India
Nasser joined R&S in 2001 and walked up to his way to become a team leader, and then started Mumbai Operations in 2014. In 2017, he was appointed as the Director – Test & Measurement. Today, he is the Director – Marketing, where he handles all the business development of the company. He has been an integral part of the R&S growth story.
From his previous experience, Nasser believes that a Manager should have the essential four E's, which are Energy, Energize, Ends and Execute. In other words, the enthusiasm to take the decision forward, motivate colleagues, believe in the outcomes keeping in mind the management & stakeholder needs, and finally the seamless execution.
Nasser emphasizing on his leadership style and success mantra, speaks, "Today, a Manager has a much bigger role of a mentor. Therefore, it becomes crucial to be focused on the road ahead, instead of a rare-view mirror driving. I don't believe in driving ahead by looking in the rare view mirror!"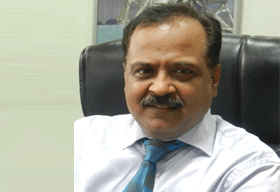 Yatish Mohan, Managing Director
Yatish Mohan, Managing Director, Rohde & Schwarz India
Yatish as a person is driven by passion, motivation, focus, and honesty. He is a man of enthusiasm. His robust experience and knowledge in the industry, has got where R&S India is today. Before starting his career with R&S, he was working with companies like Toshniwal Bros and Philips India Ltd.
At R&S India, he has been instrumental in building a team of high caliber, right from scratch. From his past experience, he firmly believes that the success of any company is defined by hiring the best people in the industry, taking corrective measures at the right time, and effective management of resources leading to value addition of the company. Today, he takes great pride - as the Indian R&S team is considered to be one of the best teams across the globe. R&S India is setting one milestone after another.