EconStra: Hosting a Revolution in the Consultant Industry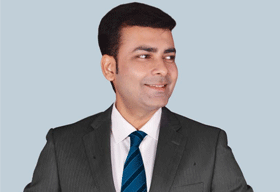 Arunavaa D. Bajpayi
CEO, Econstra
It's finally time to reap the harvest of Union Government's insightful campaigns & reforms implemented over the past few years, including Make in India, Digital India, and GST. An even finer business landscape is in the making, as India's GDP accelerated to 7.7 percent in the quarter ended in March-2018, is outpacing China by nearly a percentage point. With a recent report reaffirming that SMEs contribute for 45 percent of our country's GDP, even the government now believes that the road to sustained job creation & economic growth is paved by the thriving micro, small & medium businesses.
Though the opportunities are limitless, SMEs often fail to dig up such wetlands due to multifarious functional challenges, lack of supporting structure and absence of market-centric strategies, and remain underserved & un-served when compared to the corporate realm. Not only the top three corporate consulting firms are unaffordable for an SME, but also most of them allocate consultants who are 'on the bench,' whereas boutique consultancies restrict their focus to a specific functional area, which is never adequate for a growing small-scale business. Bringing this disproportion to a halt is EconStra – a Kolkata-based well-diversified & highly affordable business consultancy firm, which acts as a panacea to diverse functional, strategic, and economic needs of a business, typically an SME.
EconStra works as a knowledge partner with growth-seekers to deliver customized solutions that resolve their most significant issues and create lasting competitive advantage. Just imagine the diverse scenario of our country's dynamic business landscape, political structure and consumer/customer mindset. While tackling these odds, this boutique firm reminds us that it doesn't take any secret code to decipher business challenges, but the key carved out of deep-rooted knowledge base. Banking on its decades-strong cumulative experience, know-how in functional areas, and extraordinary talent base, EconStra looks beyond standard solutions to develop new insights, mobilize organizations, drive tangible results, and help companies grow with maximum profit at an affordable cost. Putting it in a nutshell, organizations which can't afford the top three consultancies are no more left high and dry.
Breaking the Status-quo
Picture the lucrative corporate world pouring money even for a nominal variation in the graphs on one side, and SMEs that seek phenomenal & tangible growth against sophisticated challenges on the other. The rationales behind getting down to the ground and indulging in the second proposition, like EconStra does, couldn't be plenty. Getting wise to EconStra's impetus takes us back to the yester-decade, when Arunavaa D. Bajpayi(CEO, EconStra) – a Harvard graduate returned back to India post an excellent academic and lucrative professional career in the U.S.
It was Arunavaa's father's dream to serve the Indian people that brought him back to a small town in Burdwan. But his enthusiasm & passion to help businesses grow was awaited by the diverse Indian business scenario and its unprecedented consulting needs. Those were the days which made him learn another predominant lesson beyond the foreign-author textbooks: foreign business ideologies don't work in India, especially among the SMEs.
Perceiving this challenge as an opportunity to break the status quo, Arunavaa incepted EconStra in 2010 with a vision to act as a one-of-its-kind knowledge partner for SMEs. Substantiating Paulo Coelho's aesthetic words – 'When you want something, all the universe conspires in helping you to achieve it', Arunavaa gathered a team of expert consultants with same vision from top-layer consultancies. Owing to its robust, result oriented & responsible approach, the company that started its journey with just three clients today has grown in leaps & bounds, wherein it has served over 600+ clients till date from diverse business verticals with a strong foothold across PAN-India, Middle-East, Sri Lanka, Bhutan, UK, Canada & the U.S. The fact that 90 percent of its new clients (including listed companies) have been coming through referrals is a testimony to its reputation of adding value to quite a remarkable extent.
The Lessons of Responsibility & Accountability
Going by Arunavaa's own words, "As the top layer consultancies remain unaffordable, SMEs are often forced to engage with different niche boutique consultancies for their different functional needs ranging from devising strategy, financial services, marketing & sales analysis, and business process re-engineering (BPR). This is precisely where the blame game starts, wherein accountability & responsibility falls in no man's land". Couldn't agree with him more, as for instance, the companies that merely focus on marketing & branding stop with presenting branding ideas and condemn client's poor financial planning when the end-result takes a wrong turn. But, EconStra explores all avenues and brings forth a branding strategy that considers various parameters, including the amount the client should invest in this marketing & branding endeavour.

"EconStra explores all avenues and brings-forth a branding strategy that considers various parameters, including the amount the client should invest in this marketing & branding endeavour"

Having on-boarded a bunch of experts from top-layer consultancies with versatile domain & functional expertise, EconStra has every reason to play an all-rounder-role, as it has implemented different dedicated practitioners for diverse divisions based on their expertise. It offers a miniature form of comprehensive consultation services across multifarious industries & functional areas projected towards tangible growth & value addition. "Our motto is simple. When we leave the client's site, there must be some noticeable value addition for the money they've paid," divulges Arunavaa.

Indeed, partnering with a single, completely accountable vendor for a wide spectrum of services that include, but not limited to, agronomy, farm business management, cash flow budgeting, finance negotiation, pre-purchase property assessment, succession planning, feasibility studies, economic loss assessment, BPR, and strategic planning, as well as outreach solutions, is an undeniable proposition for any organization. EconStra's comprehensive service is a boon for foreign organizations & NRIs seeking to invest in Indian market, as it's quite impossible for them to trust five different companies for five different projects. Operating with the prime goal of ethically helping people, this full-service consultancy firm helps them with end-to-end services including company formation, finding local partner, defining roles & responsibilities and much more. As a cherry on top, EconStra also offers closed-door workshop exclusively for its clients to facilitate them drive their business towards the right direction.

Considering the dynamic nature of target prospects (startups & SMEs), EconStra not only becomes their vital partner, but even helps in starting up a company, not to mention that it backs up all the deliverables with data analytics & standard operating procedures. While the management book written based on British/American rules fail to work in India, case studies are proven to be inefficient as they are very specific and subjective. Hence, standing true to its name (Economy based Strategy), EconStra forms a customized practical strategy according to the culture & economy of a specific client and one's country, all the while factoring in the elements that are important to the client. "Startups need pragmatic problem-centric knowledge assimilation, and tailor-made solutions. And that's exactly what we provide," adjoins Arunavaa, manifesting his passion towards helping the startups grow. Acting as a knowledge bank, the company helps startups translate information into knowledge, which when assimilated with determined & committed repetitive actions, gives them desirable results.

Building a Consultancy Ecosystem for Today & Tomorrow
Well, it's just the tip of the iceberg. Any beholder who has watched EconStra's endeavors over the past few years can easily discern the beautiful sight of a consultancy-ecosystem formation around the company, wherein its IT advantage plays an instrumental role. Another predominant component of the ecosystem is EconStra's sister concern, 'EconStraTech,' which commits to build your brand with loyal-customers by heavily leveraging on industry's most recent tools & best practices in website development, digital marketing, corporate branding and software development.

One of the lately added components is a mobile platform - AdviceGate, which encompasses a fleet of 250+ registered consultants. In this Ola-like app, organizations can search for new consultants. One among the app's interesting & salient features is its Q&A option that includes Voice Chatting with consultants, which helps to shred the language barrier between clients and consultants.

Due to the lack of a proper metric system that gauges one's potential to be a consultant, our country is in dire need of proper consultation from educated consultants. To help organizations find a skilled consultant, the company is launching 'EconStraPro,' which offers professional training to aspirant individual consultants or consulting firms, wherein value addition takes the driver's seat and money is just secondary. This novel avenue promises to satisfy the need for more number of well-qualified consultants, who can either find their own clients or stay with EconStra and register with AdviceGate, which channelizes the company's outsource-able works towards these trained consultants. However, the factor that deserves a token of appreciation is EconStra's money-back guarantee to clients, who are not satisfied by these consultants' work. Quite clearly, EconStra's road to a successful future is no different from the industry's.

Key Management:
Arunavaa D. Bajpayi, CEO
A Harvard University graduate, Arunavaa brings-in immense international knowhow and deep industry experience to the company. It is his passion to take part in the growth curves of organizations across the globe.

Offices: Gurgaon (Headquarter) & Kolkata

Offerings:
•Corporate Strategy
•Business Idea
•Business Process Management
•Marketing and Branding Sales
•Closing Digitisation of Business