How Information Technology enabled: Customer Delight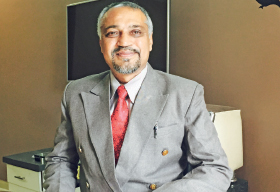 Headquartered in Pune, Garware Wall Ropes is one of India's leading manufacturer, supplier and exporter of Fishing Nets, Agro Shade Nets, Sports Nets, Ropes, Twines, Geosynthetics, and many other materials.
The company today is a multi-divisional, multi geographical technical textile company which manufactures and caters to the space of ropes, fishing nets, sports nets, safety nets, aquaculture cages, coated fabrics, agricultural netting and products used for Geo Synthetics applications such as Gabions, Geo Bags etc. Garware Wall Ropes Ltd. (GWRL) is one of India's leading players in the technical textiles sector, providing specialized solutions to the cordage and infrastructure industry worldwide.
Case in Point
The front line sales force from their daily experiences and various customer feedbacks felt the strong need to improve the customer services on various parameters such as information visibility, response time,lead time and right documentation.
How IT-enablement and a cross-functional team overcame it together?
In a systematic approach, we had identified a professional agency to conduct a survey with our top 20 customers to measure the current service level Index using the parameters mentioned above.
Identify Areas of Improvement
Post the survey results; a high performing cross functional team was formed with members from Marketing, SCM, Plant, Customer Service and IT to improve the Service Level score. The team had various meetings and identified following areas of improvements.
1. High Handholding - Too many agencies to talk to (Marketing, SCM, PPC, Quality, Plant, Accounts, IT etc.) for getting information/issue resolution.
2. Excel based Silo Reporting - Lack of integration between internal sections leading to poor reliability and accuracy of Information.
3. Lack of visibility on the Inquiry/Order status to Front line sales team and Customers
4. No visibility on Leading Indicators, always post mortem on delays, errors etc.
5. Lack of Integration with external Agencies such as CHA,Freight Forwarders leading to no visibility post the despatch of goods
6. Huge increase in process time such as Material Code Creation, SO creation etc.
7. Increased manufacturing lead time by enabling integrating planning.
8. Error in Documentation to reduce errors and speed up invoicing.
The team brainstormed under the guidance of our CEO about the way
forward and unanimously came to a conclusion that Information Technology can play an enabling role in overcoming the above issues and creating Customer Delight. Accordingly the team, led by SCM from business side and IT from functional side,identified the key impact areas where IT can play a significant role in improving customer experience

Key Impact Areas where Information Technology can provide Breakthrough advantages:
1. SLAs : Identify Important SLAs for customer services, automate, and display on Dashboard.
2. Pre Manufacturing Visibility – Provide visibility to related front end sales team and the customers to track the status between Inquiries to Sales Order Generation.
3. During Manufacturing Visibility – Provide access to the customers and the front end team to Track stage wise Order Status with respect to the readiness schedule.
4. Dispatch Visibility – Visibility to Customers on (Receipt at Port, Custom Clearance, ETD, ETA )
5. Quality Documentation – Eliminate errors in documentation (Pro¬forma Invoice) by automating them and making them available online to the customer.
6. Process Improvement – Improve communication and Response time, Reduce Order entry time, manufacturing lead time, container turnaround time.

The weekly Monitoring mechanism for identified SLAs have made the system more proactive, the individual department are owners of the SLAs and responsible for achieving each SLA.

Various SLAs :
1. Marketing - Enquiry to Response time
2. SCM and Customer Service - PO to SAP Order;PO to PI; Order acknowledgement to customers
3. PPC - PO to Dispatch Schedule, Manufacturing Lead Time, Manufacturing OTIF (On time in full), Factory Despatch OTIF
4. QA - PO to Code Generation, Complaint Resolution Time(Entry, Acknowledgement, closure) The transparency and clarity of entire value chain inquiry, order, manufacturing, dispatch, payment and after sales services has enhanced the customer trust on us.

Technology enabled Solutions
The various tools which were deployed to improve on our customer experience
1. Mobile App - To enable frontline sale to capture and track Inquiry
2. Work Flow - To automate and track the status of SAP material code and complaints
3. SAP - Customised for getting visibility reports
4. Customer Portal - For customers to access and view the status of orders and documents
5. Tools for Integrated Planning - Integrated with SAP and also tracks the material inflow against the order schedule
6. Tracking of Lead and Lag Indicators

Implementation Effectiveness
End User (Frontline salesforce and customers) learning modules were designed and deployed to make them aware of the process, post which the system was rolled out across. Effective usage of the system was measured in order to reap cent percent benefits. Appreciation and positive feedbacks in post survey from the customers, frontline sale-force and the sales heads corroborated our efforts in enabling the customer delight through information technology.

The critical success factors for the accomplishment of Customer Delight were - stakeholder buy in, KISS principle - we kept the system simple and user friendly, continuous training and hand holding, frequent measurement and continuous improvement on effective usage.

Pre-order visibility
Customer Inquiry status; PO Pending for SAP Orders ;Orders Pending for Schedule Readiness

Manufacturing visiblity
Stage wise Orders status wrt to schedule; Readiness Status for placing containers

After Sales Services
Complaint pending with different sections; Complaints Register